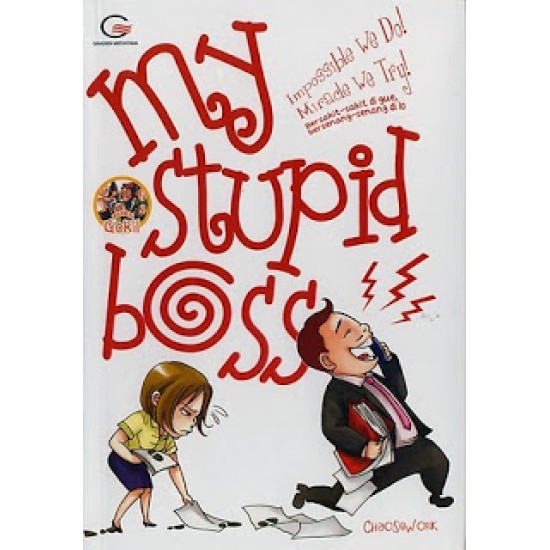 -20 %



Format : Soft Cover
ISBN : 6028260207
ISBN13 : 9786028260206
Tanggal Terbit : Februari 2009
Bahasa : Indonesia
Penerbit : Gradien Mediatama
Halaman : 200
Dimensi : 130 mm x 190 mm
Gue terharu banget Pak Boss mandang gue begitu tinggi. Dia super yakin Christopher Reeves is not the real Superman, but I am.
Boss: Saya gak mau tau! Pokoknya kapal harus jalan tanggal 15! Apa pun caranya!
Gue: Cannot. Kita bukan pemilik kapal. Kapal mundur jadwalnya, kita gak bisa buat apa pun.
Boss: Saya gak mau tau!
Gue: Ok, apa boleh buat... saya pulang dulu ke rumah ambil sayap Superman, ntar saya terbangin barang kita ke Sarawak!
Boss: Kamu gak usah ngomong sinis begitu!
Gue: Saya gak sinis. Saya cari alternatip! Setau saya perusahaan kita belum beli itu kapal, jadi kita gak bisa atur jadwal. Satu-satunya cara, ya saya bawa terbang, kan?
Boss juga yakin gue bisa do miracles. Antara lain: ngatur cuaca.
Boss: Hah? Jadi kapal terlambat sampek Sandakan? Aduuuh kenapa ada cuaca buruk? Berapa lama? Gak bisa begitu dong. Apa gak bisa dicepetin badainya? Coba lain kali kamu kerja yang betul... diatur yang bener supaya kapal jangan sampek kena cuaca buruk!
Kwa-kwaaaaaaaaa...
(Sebuah kutipan dari 70 kisah kegokilan seorang Boss, yang membuat anak buahnya hendak "mengakhiri" hidupnya)
…Ini namanya Mati Ketawa... eh Ketiwi ye [soale yang nulis cewek]... ala pegawe. Favoritku, Amnesia Attack! Mestinya diedarin nih ke angkatan karyawan dan karyawati nasional, biar nggak cepet stroke dan ubanan. Peringatan keras buat para boss, jangan ngerekrut pegawai yang jago curhat ngocol... apalagi sampe nulis buku gini... hihihi...
Rini Nurul Badariah, dah 7 taun insap dari status pegawe (http://rinurbad.multiply.com)
…Baca buku ini bikin gue ngerasa boss gue tuh calon 'Boss Idol' deh... Bohay boss gue ga ada seupilnya dari Boss di buku ini!
Someone, Corporate Secretary.
…Gilaaaaaa' gw jadi pengen ketemu this stupid and evil boss, mencekik lehernya, terus ngelemparin dia jadi umpan buaya! Duh, duh, duh, kok ada ya boss kayak begini? Fyuuhh' Udah lama banget gw nggak jumpalitan kayak monyet sirkus pas baca sebuah buku. My Stupid Boss bener-bener mencengangkan!
Iwok Abqary, Penulis buku komedi TIKIL dan GokilDad (http://iwok.multiply.com)
…Gileee... Boss kayak gini sih ngangenin banget!!! Gue mau deh...
Anne, Asisten Boss Garing sebuah perusahaan.
Tags: Novel, Buku Fiksi, ramadhanagromedia, GrobAgromedia, clearanceSale, GrobPrimeDay, GrobPrime30, RRMD, RMD40, XRM, MyStupidBossSeries