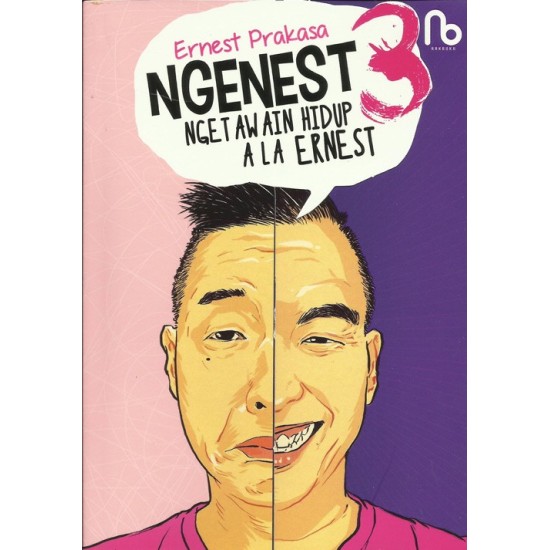 -20 %
Ngenest 3 : Ngetawain Hidup Ala Ernest
No. ISBN : -
Penulis : Ernest Prakasa
Penerbit : Rakbuku
Tanggal terbit : Desember - 2015
Berat Buku : 250 gr
Jenis Cover : Soft Cover
Text : Bahasa Indonesia
Dan ternyata rumahnya Nina emang mewah banget, sampe ke toiletnya. Bayangin aja, toiletnya itu luasnya sekitar 2�3 meter. Luas bangetlah untuk ukuran sebuah toilet.
Lantainya pake marmer, plus dikasih karpet di tengah-tengah. Gile, kamar mandi aja pake karpet. Kamar tidur pake apa coba, ubin batu akik? Udah gitu, dindingnya dipakein walpaper. Kalo wallpaper buat komputer sih enak tinggal donlot gratis, kalo ini kan kudu beli mahal. Setembok penuh pula. Bukan cuma itu, kamar mandi ini juga ada AC-nya! Ngeliat segala kekerenan itu, gue cuma bisa bergumam dalam hati, �Sial, apa gue pindah kost ke sini aja ya?�
�Kencan Pertama Yang Luar Biasa�
Gue nggak nyangka kalo situasi di dalam ruang bersalin bakal rusuh begini. Asli, gue dicubit, digampar, dijambak, komplitlah. Pokoknya kayak rekap best of the best hukuman bokap ke gue selama enam tahun masa SD, dikompilasi dalam format zip berdurasi setengah jam. Dan yang gue amat sesalkan, kenapa di depan rumah sakit nggak ada yang jual helm dan tameng yang suka dipake polisi anti huru-hara. Padahal itu akan sangat membantu melindungi para suami yang berjuang menemani istri mereka.
"Drama Ruang Bersalin"