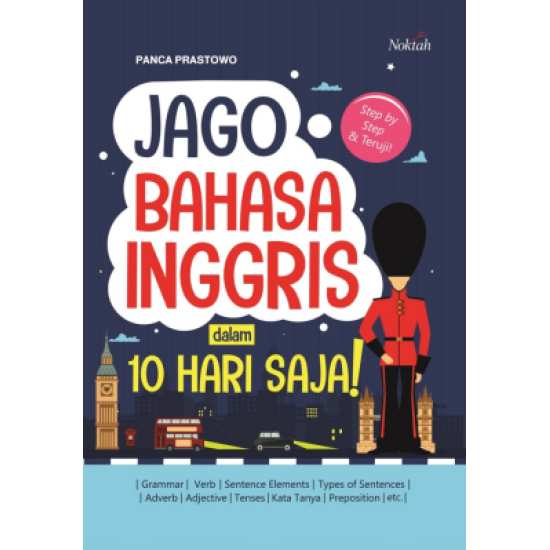 -20 %
Jago Bahasa Inggris Dalam 10 Hari Saja!
English is easy.
Ya, bahasa Inggris memang mudah. Apalagi, jika Anda terus berlatih dan mempraktikkannya sesering mungkin dalam kehidupan sehari-hari. Bahkan, saking mudahnya, Anda pun bisa menguasai bahasa Inggris dalam waktu 10 hari.
Wow, apa itu mungkin?
Tentu saja! Dan, inilah buku yang akan membuat Anda mampu mewujudkan impian tersebut.
Buku ini menyajikan segudang materi bahasa Inggris yang harus Anda kuasai dalam waktu 10 hari. Hari pertama grammar atau tata bahasa dasar, hari kedua verb atau kata kerja, hari ketiga sentence elements, hari keempat types of sentences, hari kelima adverb atau kata keterangan, hari keenam adverb of time dan adverb of manner, hari ketujuh adjective atau kata sifat, hari kedelapan tenses, hari kesembilan kalimat tanya, dan hari kesepuluh preposition.
Hebatnya lagi, buku ini pun memaparkan tentang seabrek tips mudah belajar bahasa Inggris. Di antaranya, belajar bahasa Inggris dengan catatan harian, berpidato dalam bahasa Inggris, menyimak, memainkan ragam permainan bahasa Inggris, berdoa dalam bahasa Inggris, serta terus berlatih.
Selamat belajar!
Penulis : Panca Prastowo
Ukuran : 14 x 20 cm
Halaman : 252
ISBN : 9786025781391
Penerbit : Noktah