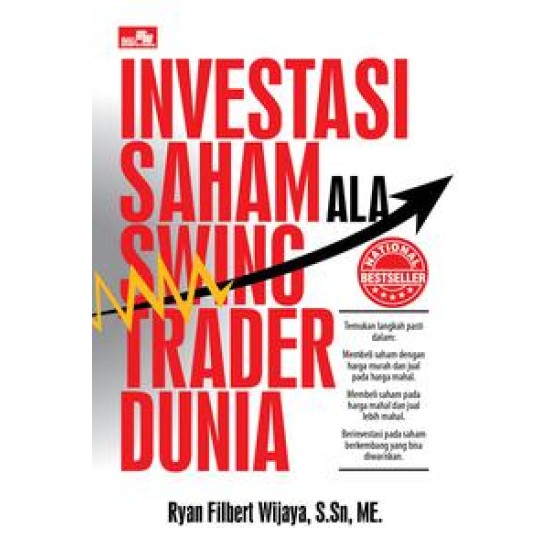 -20 %
Investasi Saham Ala Swing Trader Dunia
Dalam semua investasi diperlukan suatu analisis agar investasi dapat maksimal dan berkembang. Buku Investasi saham ala swing trader dunia adalah buku yang memberikan penjelasan secara mendasar, mendetail, dan menyeluruh bagi banyak orang yang digambarkan secara sederhana. Isi buku ini meliputi:
- Dasar pengenalan pasar modal di Indonesia
- Analisis teknikal yang telah digunakan banyak orang di dunia
- Cara membaca analisis teknikal secara sederhana
- Journal harian dari transaksi-transaksi dalam saham
- Cara membeli saham dengan harga murah dan jual mahal
- Membeli saham dengan harga mahal dan jual lebih mahal
- Melakukan pengumpulan (akumulasi) pada saham-saham berkembang
- Pandangan negatif yang dapat membuat kita gagal dalam berinvestasi
- Cara Pengelolaan dana investasi
Buku ini sangat baik dibaca oleh pemula maupun para pelaku pasar modal yang selama ini bergantung pada analisis yang rumit dan bergantung pada suatu program tertentu.
Apa kata mereka yang membaca buku ini?
"Semua pengalaman dan sepak-terjangnya mendalami investasi sejak awal hingga sekarang inilah yang tertuang dalam buku Investasi Saham ala Swing Trader Dunia ini. Karena itu, buku ini memang cocok jika khusus dipersembahkan bagi kalangan investor pemula. Isi buku ini pun bisa dijadikan bahan bertukar pengalaman bagi kalangan investor yang lebih berpengalaman"
-- Andrie Wongso Motivator No.1 Indonesia
"Buku ini adalah hasil perjalanan Ryan melewati "deep rabbit hole" yang dijanjikan oleh Morpheus. Dikemas dalam bahasa yang akan mudah dicerna oleh orang-orang seperti saya demi mengerti makna di balik dan memetik manfaat pelajaran dari perjalanan "deep rabbit hole" tanpa harus susah-susah benar-benar melaluinya"
-- Praditya Nugraha Salim Head of Marketing, BMW Group Indonesia
"This book is simply wonderful, simply explained what your charting needs with real conditions"
-- Antonius Tanjong, S.Kom, M.M. Equity Sales Consultant KE Trade – PT Kim Eng Securities
Jumlah Halaman : 204
Tanggal Terbit : 18 Jan 2014
ISBN : 9786020230511
Bahasa : Indonesia
Penerbit : Elex Media Komputindo
Berat : 0.3000 kg
Lebar : 14 cm
Panjang : 21 cm